Orange County Plumbing Champions: Water Heater Repairs and Installations at Affordable Rates
The most obvious way to find out if your water heater is working is by switching it on and testing the water. If it isn't heating up the way it is supposed to then you got yourself a problem on your hands; but you need not be stressed, all you need to do is call Orange County Plumbing Champions and our water heater repair and installation experts in Orange County will be there to attend to your water heater immediately.
Our Water Heater Repair Services
If your water heater is working but isn't heating like the way it is supposed to then you need to get it cleaned. Usually sediments accumulate on the burner and this prevents the water from heating. The burner becomes ineffectual and eventually stops heating the water altogether. If you noticed that the heat is reducing in a gradual manner, you can be sure that it needs to be cleaned.
At Orange County Plumbing Champions, our expert technicians know how to do the job and will do it quickly with no hassle whatsoever. If it is a part that needs replacement, we do that for you as well and install new top quality replacement parts that are durable.
We Help You Pick Out the Best Water Heater for Your Home
Our plumbing technicians always do their best on every job, but if it just isn't possible to fix your water heater and if it has given you its best for years beyond its guaranteed life then we help you pick out a new water heater. Also, in case the cost of fixing the water heater is too unrealistic then our technicians recommend that you buy a new one to replace it. Not only do we help choose the new water heater, we also give recommendations on which one would best suit your requirement and don't always go by the most popular choice. Our technicians then install the new heater for you so that you are not saddled with the responsibility of having to find someone else to install it.
There are new tankless water heaters that have become quite popular recently and if you choose to embrace change and buy one of those we will install it for you. The reason for the sudden popularity is that these heaters save a lot of energy because it heats water instantly and does not have to keep water hot in a tank.
Water Heater Maintenance Services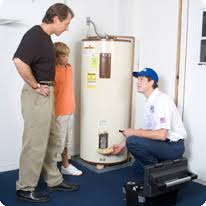 Our work doesn't end after we install your water heater. We provide regular maintenance services so that your water heater is in good condition and remains that way for longer. This will also prevent it from needing emergency technicians to take a look at it. These maintenance services include cleaning the dirt out from the pump so that the effectiveness of the water heater is not affected. Our water heater installation services provide 24/7 maintenance services as well.
So call us anytime your water heater decides to act up or if you just need maintenance check and we will be there.