Orange County Plumbing Champions: Maintaining Your Property through Trenchless Sewer Repair
Is it time for you to repair your sewer? Are you simply postponing it because replacing sewer pipes mean damaging your property? Thanks to trenchless sewer pipe replacement this is a thing of the past.
If the video inspection reveals that your sewer pipe requires replacement, our trained experts at Orange County Plumbing Champions will perform trenchless sewer line replacement. This advanced technique is less expensive and quicker besides it will ensure your property is not damaged.

What is Trenchless Sewer Line Repair?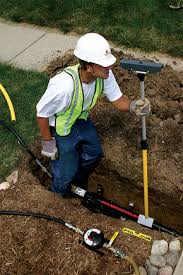 The basic idea of trenchless sewer line repair is replacing sewer line without digging up your lawn. Orange County Plumbing Champions will repair or replace your sewer pipes without digging or damaging your lawn and property. Your yard remains intact and your sewer also gets repaired. Though it reduces the need for digging deep trenches, it however requires vantage points digging to access points and holes. It also needs to check the existing sewer position as a guide for the replacement of the new pipe.
Trenchless sewer line replacement is a relatively new technology where an elongated metal bursting head is tied to a steel cable which is used for bursting the pipe by pulling through the existing sewer line. The bursting head splits the pipe and helps it to push it down and the new pipe is thrust in. Orange County Plumbing Champions are experts in this and the new pipe has the same diameter as the existing one.

Benefits of Trenchless Sewer Repair
Here's why trenchless sewer repair is gaining popularity:
Saves Time – This definitely saves time than the conventional method of digging. This innovative technology cuts down on time and less time means the inconvenience caused due to repair is short-lived. Clients need not relocate or haul water manually.

Saves Money – Trenchless repair for complete sewer line is less expensive than the traditional method of trenching as structural modification is not required. Since there is no excessive digging and only small holes are dug, the process saves a lot of time and money. It means less manual labour and therefore costs less.

Less Damage – Trenchless technology involves less digging which reduces scope of damage. Large areas of lawns and backyard are not dug up and therefore less damage in your lawn.

Better Function – A sewer once replaced through trenchless method requires fewer repairs in future as they are strong and long lasting. The flow capacity is increased with the new pipes.

Why Choose Orange County Plumbing Champions for Trenchless Sewer Repair?
Trenchless sewer repair method is highly effective as it allows easy access to damaged points and ensures better installation as our experts use the existing lateral position of the sewer line. We are the preferred choice of customers for trenchless sewer pipe repair in Orange County as:
We are available 24/7 to undertake sewer line repairs or any plumbing job.
We have a response time of less than 60 minutes across Orange County
We have the latest equipment and tools to perform superior trenchless sewer line repairs
Our plumbers are licensed, insured, experienced and courteous

Call Orange County Plumbing Champions for trenchless sewer repair or any type of plumbing job.