Orange County Plumbing Champions: Call Us for the Most Efficient Sewer Repair
Sewer line damage if not repaired immediately might invite the need for a replacement which will be both expensive and tedious. Moreover a cracked sewer can also result in property damage and health risks. Orange County Plumbing Champions is the answer for all your residential and commercial sewer problems. Our plumbing experts are trained to offer complete solution for your sewer troubles in Orange County and are available 24/7, 365 days a week to look after your plumbing needs.
Causes for Sewer Damage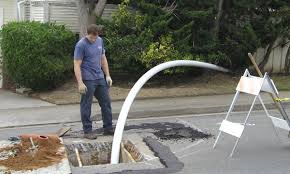 Listed below are the most common causes of sewer damage.
Corrosion and rust: Sewer lines made of cast iron are susceptible to rust that ultimately leads to pipe breakdown. Clay pipes can also become brittle and cracks can develop if not installed properly.
Clogged Sewers: Sewer pipes can get clogged due to build up of oil, grease, fat, debris, hair and other sediments.
Tree Roots: Tree roots are notorious for creating blockage. Tree roots or shrub roots look for moisture inside the pipe leading to erratic water flow.
Soil shifting – Shifting of soil due to earthquake or construction in adjacent property can also cause sewer damage.
How to Diagnose a Sewer Blockage
Some of the common signs you can look out for are gurgling noise from the pipes, low flow of water and water and sewage backup in the bath tub or toilet. Once you call us for sewer problems, our trained technicians at Orange County Plumbing Champions perform a plumbing video inspection to diagnose the issue. A video inspection of the sewer line can exactly pinpoint the source and location of the problem. Our plumbing experts then prescribe the most appropriate and effective solution.
Sewer Repair
To ensure efficient and long lasting sewer repair we make use of technologically advanced methods:
Trenchless Sewer Repair – If the sewer is completely damaged then we suggest trenchless sewer repair. This method takes less time and money as only a part of your property is trenched to repair the affected area.
Relining: This process will install new pipes from inside out. If our experts diagnose that the issue can be resolved through relining, then we make use of advanced epoxy relining method.
Pipe Bursting: If our technicians detect a burst pipeline, we will remove the damaged line and replace it with a new, high-quality sewer pipe.
Preventive Measures: To prevent sewer line damage it is important that damage is prevented by taking up regular check-ups by our experts.
Contact Orange County Plumbing Champions for any type of sewer replacement or repair job. We are a reliable plumbing service company in Orange County that you can trust for sewer repair or any type of commercial or residential plumbing job. We ensure 100 % customer satisfaction and see to it that problem is fixed at its root so you are not bothered with the same problem for a long time. When you call us, you can rest assured and leave your plumbing worries behind.